How to make Sushi Roll (Maki Sushi)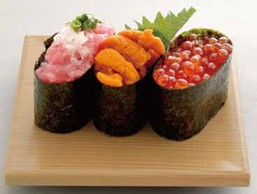 Here is how to make Sushi Roll. It is very easy to make as all you have to do is to roll the sushi rice with seaweed (mori) and put the ingredients on top!!
Cut the hand-rolled Nori (dried seaweed) into three equal pieces with scissors.
        * The small pieces are the ones that cut to a width of less than 1cm before dividing into third
        2. If you like wasabi, put it in the center on top of the rice.
        3. Place the shiny side on the outside and roll it up with nori. Seal the end of the roll with a grain of rice.
         4. Use chopsticks or a small spoon to put the ingredients on top. You can turn anything into a gunkanmaki by arranging your favorite ingredients and putting them on top.
If you are interested in Japanese Wagyu and Seafood, please check out our premium quality selections!